Boracay New Coast Project Overview
---
Project Type
Residential lots, Commercial shop houses

Condominiums near the golf course and Hotels

Price Range
Loan Calculator
Location
Boracay, Malay, Aklan
Turn Over Date
A prestigious development from Megaworld Corporation and Global Estate Resorts INC.
Offers residential lots, commercial shop houses, condominiums near the golf course and Hotels.
At the center of its 1 kilometer white beach is an expansive grand plaza called Newcoast Station. This centerpiece also serves as the entertainment center and take-off point towards the other features of this integrated tourism estate. It is surrounded by hotels and an array of various leisure selections and activities to choose from.
Note that this wide space does not in any way compromise the beach area so that beach lovers will continue to enjoy the sand, sea and sun together with others who simply want to have a good time in every manner Boracay Newcoast has to offer. After the sun sets, the area naturally and easily transforms into an exhilarating place, pulsating to every beat of its cool night life. Expect a multitude of events, concerts, and other promotional activities that any visitor, old and new, would certainly enjoy.
And for those who always dreamed of having their own private home in Boracay, complete with the conveniences, security, and serenity of an exclusive village, now is their chance. With commanding views of the ocean and island but away from the commercial noise and stresses of the typical crowds, Boracay Newcoast offers homeowners the chance to unwind, relax, and bask in the comforts of their own home.
And because the ocean village remains part of Boracay Newcoast, villagers are able to walk and gain access to other parts of the tourism estate with ease and simplicity. They simply have to go where their mood brings them.
Now, putting all these together, Boracay Newcoast, is certainly a tourism GAME CHANGER Tagged to be the "NEXT BIG THING IN PHILIPPINE TOURISM".
PROJECT HIGHLIGHTS
---
Offers residential lots, commercial shop houses, condominiums near the golf course and Hotels
Be part of a whole township leisure development in Boracay
LOCATION AND VICINITY MAP
---
Boracay, Malay, Aklan
Boracay Newcoast lies on the premier side of Boracay, one of more than 7.000 islands in the Philippine archipelago. Located in Aklan province, off the northwest tip of Panay island in the western Visayas region, Boracay is every inch a tropical paradise. The island is surrounded by the sparkling azure waters of Sibuyan Sea in the east and Sulu Sea in the west. And blessed with sunshine, sandy shores and ocean breezes, it's a destination that echoes with its own unique siren song.
How to get to Boracay Newcoast?
There are two main types of transport that will get you to Boracay; in fact you really need a combination of the two. You can either fly or take a ferry. You cannot fly directly to Boracay, as Boracay does not have an airport.
BY AIR
Manila to Boracay
The quickest way to travel to Boracay Island is to take the plane from Manila domestic terminal and fly to the island of Panay in the Visayas. The two flight options you have, is to fly directly to either the cities of Kalibo or Caticlan in Panay Island. The flight time to either city is approximately 1 hour. The airlines that travel to either Kalibo or Caticlan are Philippines Airlines, Asian Spirit, Cebu Pacific and Air Phil Express.The best flight is via Caticlan, and then you have a 20 minute banca trip to Boracay Island from Caticlan Jetty Port.
Cebu to Boracay
The airport in Cebu, Mactan International Airport has flights departing to Kalibo, Caticlan and Iloilo City on Panay Island daily. Once at Iloilo City, which is in the south of Panay Island, you will need to catch an air-conditioned bus approximately 5-6 hours to Caticlan.
Palawan to Boracay
Boracay travel from Palawan is by plane from Puerto Princesa to Iloilo City. Philippine Airlines (PAL) have flight twice a week. Once in Iloilo City you will need to catch an air-conditioned bus to Kalibo and then on to Caticlan.
BY SEA
Travel to Boracay can also be made by ferry. For those on a budget and with a bit of time to spare the Manila to Dumaguit voyage is ideal. Dumaguit is the north side of Panay Island just south of Kalibo. The voyage is an overnight trip from Manila. The Ferries depart Manila at North Harbor. From Dumaguit you will have to get yourself to Caticlan. You do this by riding an air-conditioned bus or to the adventurous try taking a jeepney.

Another way to get from Manila to Boracay is to take an air-conditioned bus from Manila to Batangas (Calabarzon Region or Region IV, south of Manila). From Batangas you can catch an overnight ferry to the island of Tablas in Romblon Province. This ferry will drop you off in the small part of Odiongan. From here it is a jeepney trip across the hills to the port of Looc or Santa Fe, where you can catch a banca boat to Boracay Island.

For travel to Boracay from Mindoro, large banca boats from Roxas in Mindoro and Tablas is called the Tablas Straights, the stretch of water can become extremely rough with high winds whipping up the waters to be quite dangerous. This route to Boracay is not recommended, ensure you know what the weather conditions are like prior to your departure.
SITE DEVELOPMENT
---
Boracay Newcoast is an integrated tourism estate with world-class resort offerings. It is the first and only master-planned leisure oriented community in Boracay. Situated northeast of the island, it is a fresh tourism inspired development that will help Boracay attract more tourists and investors over the long-term.
This 140-hectare development is situated at the ExclusiveNorth Eastern part of the island.
At the center of its 1 kilometer white beach is an expansive grand plaza called Newcoast Station. This centerpiece also serves as the entertainment center and take-off point towards the other features of this integrated tourism estate. It is surrounded by hotels and an array of various leisure selections and activities to choose from.
NEWCOAST VILLAGE
---
Newcoast Village, the first luxury residencial phase of Boracay Newcoast, evokes the quaint and intimate character of the world's most famous Mediterranean coastal village. Prime subdivisions lots, offered in a variety of sizes, are arranged around a private and exclusive community area, where the days take on a sweeter, slower, more soothing rhythm.
197 prime residential lots available
2.5 hectare property
Underground cabling system
12m road system 250 sq.m. & 388 sq.m.
Also known as the Residential district has a total area of 8.5 hectares
An average of 250 square meters per lot, with 197 available lots on sale
Rolling terrain, with proper design for drainage system
No beach view
10 meters maximum height requirement of houses (from the road)
No house and lot package yet
No theme
Roads will be 12 meters wide, with 10 meters  for the secondary roads. Newcoast Village  will have a separate entrance from the Spine  Road.
You don't need to go to Bali or Greece to experience elegant living. Boracay Newcoast Village has it all for you! Whether you are looking for a new home to settle down in or a vacation house that brings the entire clan all together during holidays, Boracay Newcoast is the place to be.
Experience life at Boracay Newcoast Village!
OCEANWAY RESIDENCES
---
Oceanway Residences offers views as compelling as the surrounding landscape. The luxury beach address, made up of four Modern Spanish- Style mid rise condominium clusters, overlooks the Fairways and Bluewater golf course on either side. From the homes on the penthouse level of each cluster, expansive, exquisite views of Sibuyan Sea can easily be enjoyed from the balcony.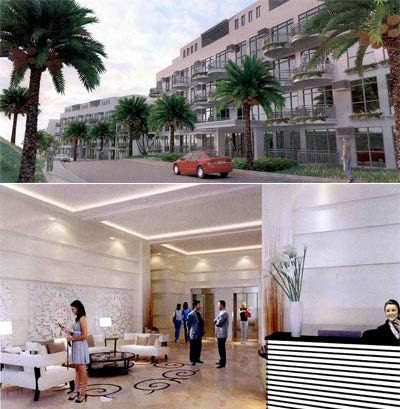 Unit Features Features
Fully-furnished units
1Bedroom and 2BR units
All units have balcony
100% Guaranteed view of the Golf Course
Unit size ranges from 40sqm-63sqm 4 Clusters, 34 units per cluster
4-Years to Pay, 0% interest
SHOPHOUSE DISTRICT
---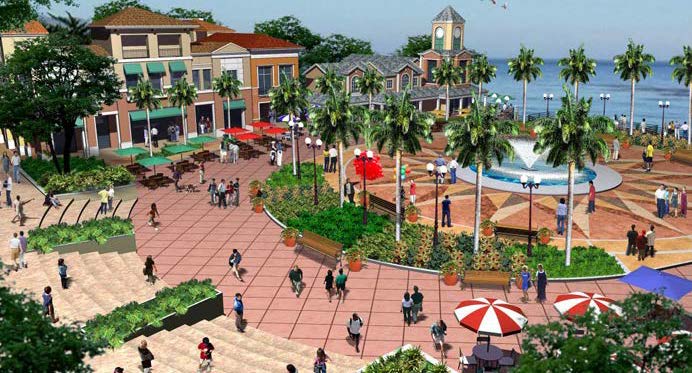 The master stroke that makes Boracay Newcoast a work of art is its blend of old and new, organic and deliberate, rugged and refined. Headed by the chief executive of Global-Estate Resorts Inc., a team of master planners traveled the globe to find inspiration for the community's Shophouse and Boutique Hotel districts.
These two seaside districts, virtually shaped by the most beautiful destinations in the world, offer a nod to the aesthetic and architecture of Oia and Fira in Santorini, Greece; Ibiza, Marbella and Barcelona in Spain; Key West, Fort Lauderdale, Palm Beach, Miami, Martha's Vineyard, Santa Monica and San Diego in the United States; and Bali and Phuket in Asia.
The structure is three stories in height, with a narrow face and a long length. The bottom floor has been designed to accommodate a commercial enterprise such as a shop, restaurant, cofee shop etc., while the upper floor or floors are intended for residential use.
The shophouse is designed to be built in a terraced design, with a row of shophouses abutting each other along a street. Each shophouse shares walls with the neighboring structures.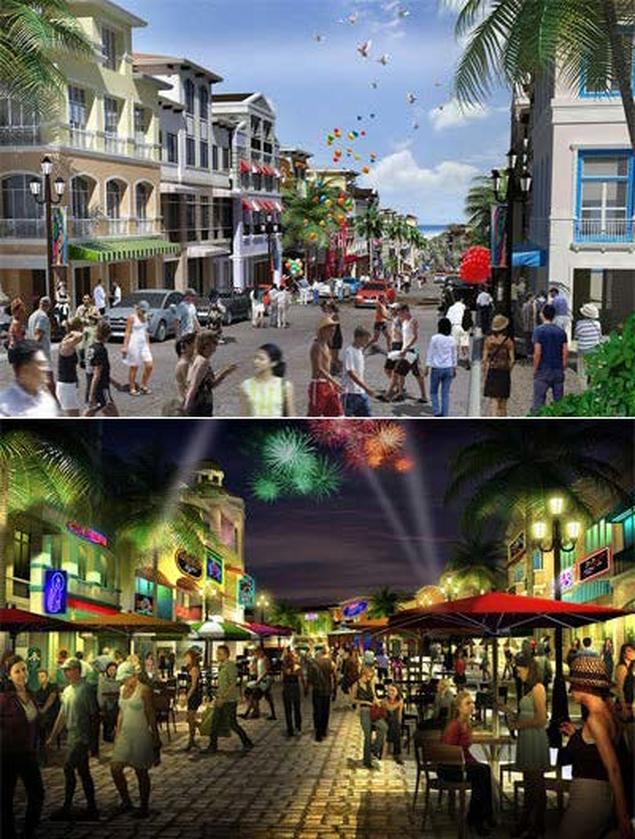 Mixed work/live buildings for Restaurants, Bars, Al-fresco, Cafe, Souvenir Shops
Each lot has an average area of 300 sq. m.
Cut 15 meters (frontage) x 20 meters (depth), no sides divided by firewalls
Height requirement the of building is limited to 14 meters (from the road)
SAVOY HOTEL BORACAY
---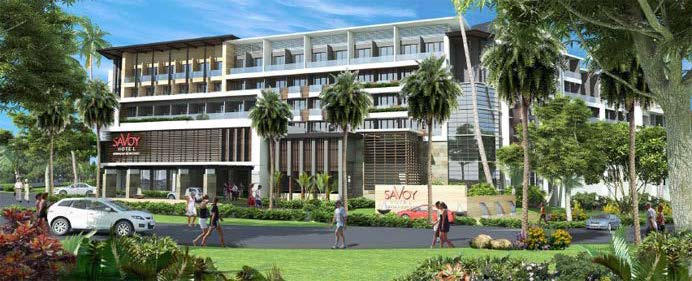 Get a piece of the action in the booming tourism industry!
As a proud owner of Savoy Hotel Boracay, you have the opportunity to earn steady income from its lucrative operations, year after year.
All Units will be fully furnished with hotel-type interiors.
100% Ownership to Foreigners/Non-Filipino.
A "worry-free" investment
BORACAY SAVOY Hotel will be operated and managed by Prestige Hotels and Resorts, Inc. (PHRI), a company dedicated to managing Megaworld's hotel and leisure portfolio.
Prestige current roster of projects includes The Richmonde Hotel in Ortigas CBD as well as the Eastwood Richmonde Hotel at Eastwood City.
This arrangement gives the condominium hotel unit owner a worry free investment because the hotel operator manages the leasing of the hotel rooms, their maintenance, refurbishment and improvement as well as their operating expenses, real property taxes, association dues, common area charges, utilities, insurance and other related expenses.
A condominium hotel unit owner will be entitled to a share in Net Room Revenue regardless of whether his unit was actually rented or not.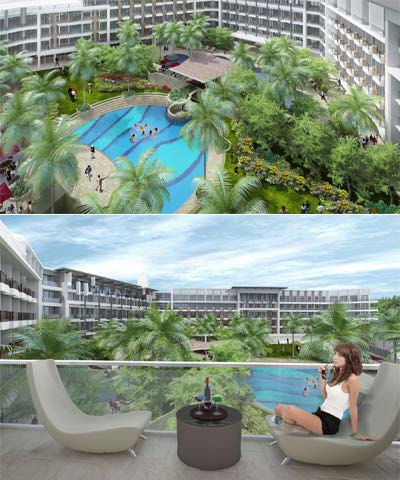 FEATURES AND AMENITIES
---
Wellness Center
Leisure Center
Church
Keyhole of Sunrise
The Lighthouse
Commercial Center
Transportation
Golf Club
FLOOR PLANS
---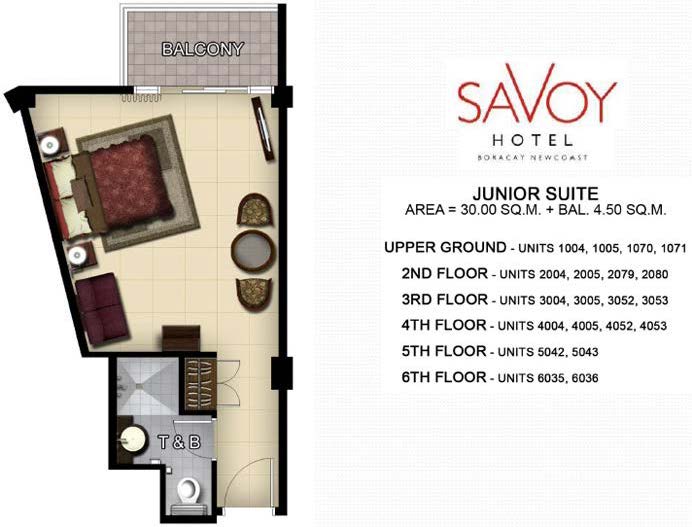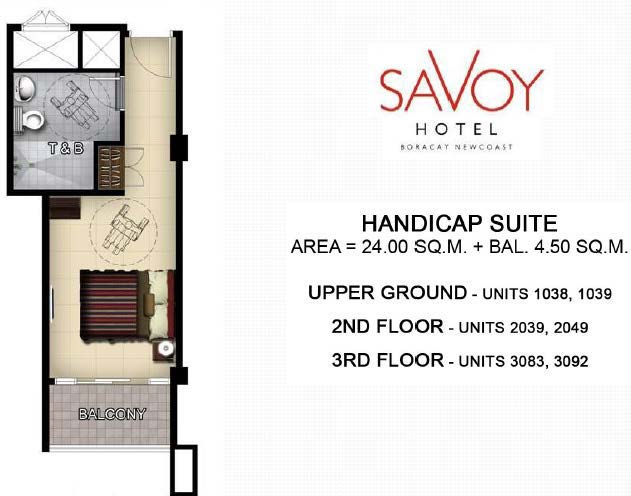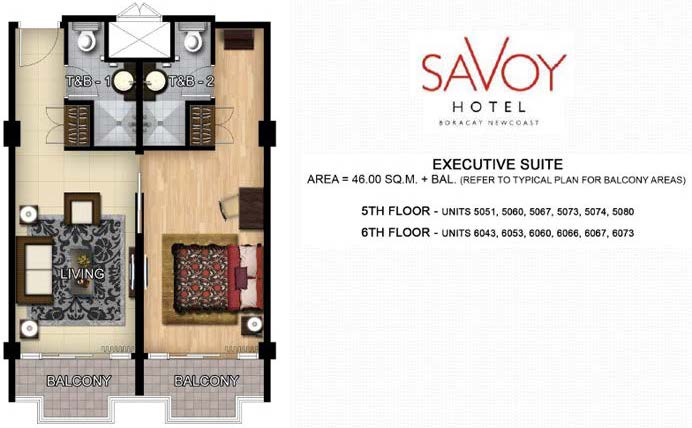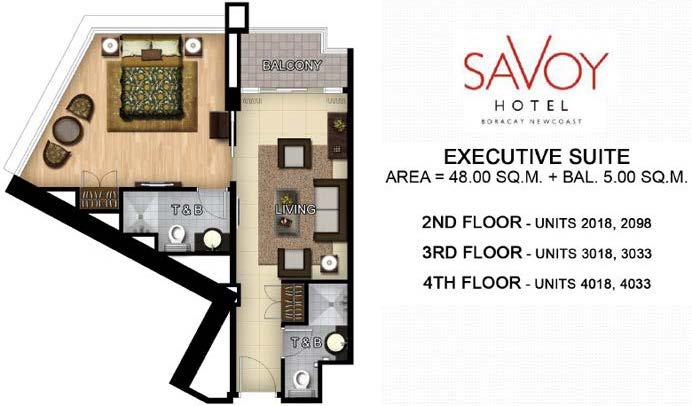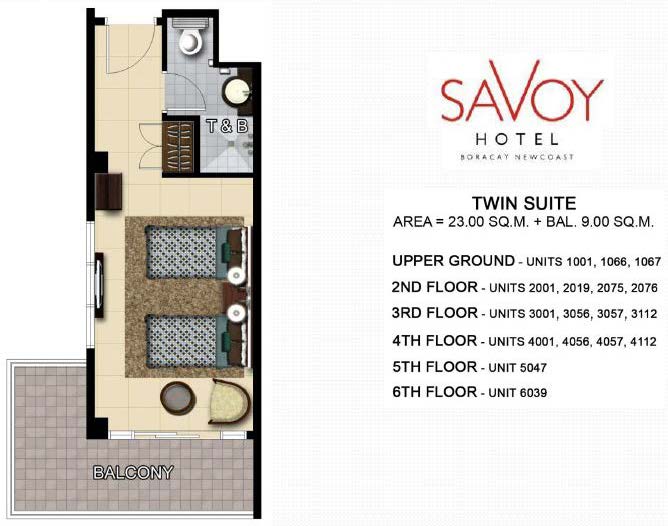 SEND QUOTE REQUEST
---
Thank you for your interest in our projects.
For inquiries, sample quotations, site viewing schedules, and unit reservations kindly call us or fill up this form and we'll get back to you immediately